Blackdragon Has Productized the Full Spectrum of Everything Necessary to Identify, Qualify, Pursue and Ultimately Win Targeted Federal Contracts
Productized services are services that are packaged, sold and delivered just like products. They are easy to identify, select, and buy. They are more predictable, agile, and scalable than purchasing billable hours or full-time employees to perform degrees of services under a wide range of quality, accuracy, uniformity and timeliness.
A Productized Service is "the whole thing done for you." In other words, it is a faster, and often more effective way for clients to get results they want, when they want it, at a reasonable price. The client does not need to invest any of their own time or resources, nor do they need to learn any new skills or perfect different techniques or deal with the headaches associated with managing all the inputs and steps of complex processes. This aspect alone adds significant value to the client's bottom line and liberates their organizations to function at higher levels of performance with enhanced efficiency.
Blackdragon has pioneered a way to turn manual, hands-on, widely varied strategy, planning, business development, capture, and proposal activities into a portfolio of distinct products and services that can be purchased on-demand and delivered in greater scale, with improved consistency, more swiftly and affordably than ever before.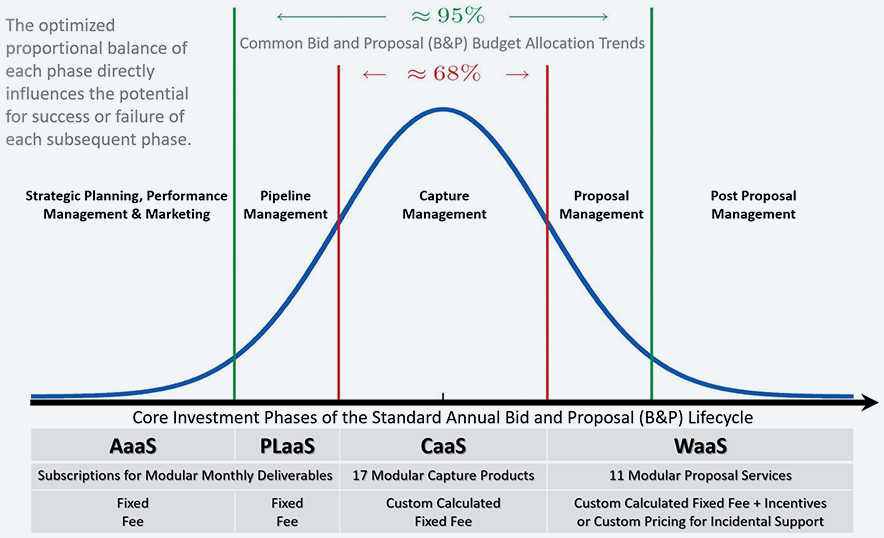 Blackdragon bidder clients enjoy the benefit of getting the best 'bang for their buck' when they optimize the alignment of their entire bid and proposal (B&P) investment strategy. Too often, these investment strategies are poorly designed, poorly executed, or both. Our combination of optional subscription services paired with our Modular Capture™ products and comprehensive set of Modular Proposal services help mitigate strategy imbalances such as neglecting or "starving" one segment of the new business life cycle because another segment is ill planned or wastefully implemented.
Bidder clients place their orders for AaaS, PLaaS, CaaS or WaaS products/services with Blackdragon which are entered into our online marketplace. Leveraging the power of technology-based crowdsourcing, analytics and vast professional networks, Blackdragon's powerful matchmaking system is activated to locate, validate, screen and select the best-fitting, highest trained, most competent and utmost experienced freelance subject matter expert or group of experts to complete each deliverable on schedule within the fixed fee. We perform quality assurance on all deliverables produced to ensure they meet or exceed our high-standards before they are released to the bidder client. Bidder clients can trust Blackdragon to deliver first-rate products and services on time and to stand behind every product and service delivered by way of our worldwide living ecosystem of talent and consolidated resource pools.